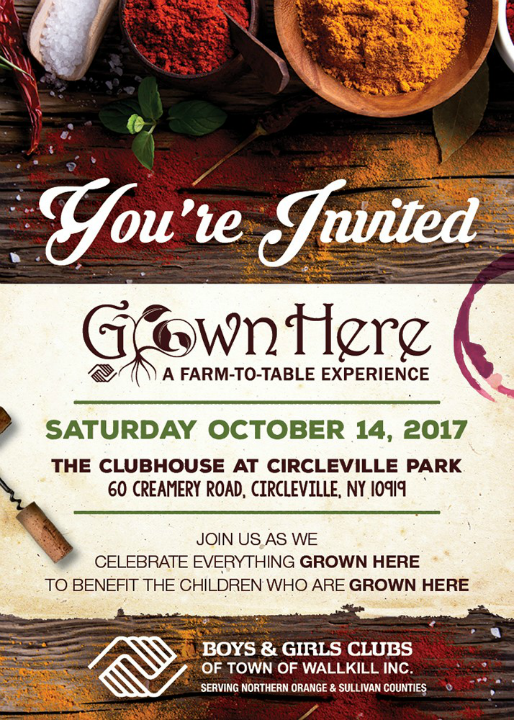 Join us as we come together to wine and dine on everything that is Grown Here!
We are pleased to announce the 4th annual Grown Here Event: A Farm-To-Table Dining Experience. Our event chairman, Jay Anthony, will host the event beginning at 5pm at the Boys & Girls Club Clubhouse at Circleville Park in Circleville, NY.
This exceptional farm-to-table dining experience, highlights dishes curated by five local chefs. Each course will be carefully crafted utilizing locally grown and locally produced ingredients, and will be paired with local wines, craft beer and spirits. This year's event features Marcus Guiliano of Aroma Thyme Bistro in Ellenville, NY, Loretta Rueter of Hermann's Erie Hotel in Pine Bush, Armand Vanderstigchel of Limoncello at the Orange Inn, Jaime Stankevicus at Neversink General Store in Neversink and Paul Nanni & Marla Pucetti of The Heron in Narrowsburg.
We our honoring founder, Stephen E. Plain who is stepping down from the board of directors. Steve's commitment to youth is undeniable and we are grateful for his dedication to building Great Futures for our Club kids.
Event guests will also enjoy a rare & unique wine auction hosted by Dr. David Ainbinder of Gentle Dentistry in Middletown, NY. He is an avid wine connoisseur with a robust private collection of wines from which he has selected some distinctive selections for this year's auction.
Somerville will be performing live to entertain our guests throughout the evening!
Tickets for this distinctive culinary event are $150. A limited number of tickets will be available this year and can be purchased online or by calling the Boys & Girls Club Office at (845) 342-8833. Tickets for this event are guaranteed to sell out quickly.